The Prince George Airport Authority (PGAA) is dedicated to excellent customer service.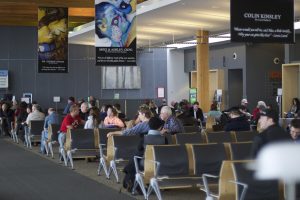 At the Prince George Airport (YXS), we strive to achieve the best of customer service by providing our customers with a variety of resources. The Information Booth and the Volunteer Airport Ambassadors are examples of the PGAA's commitment to customer service. They are available to assist passengers, meeters/greeters, or other employees with inquiries that they may have.
The PGAA and our tenants are proud to have been designated a WorldHost recognized business – the first airport in the World to be designated.
Hours of Operation
The Prince George Airport's terminal is open to its passengers from 4:30am – 12:30am.
Volunteer Ambassador Booth
The PGAA co-ordinates this volunteer welcoming program which has been established to provide on site tourism information on attractions and accommodations in Prince George and Northern BC and also to provide personal assistance to visitors at the Prince George Airport. The friendly and helpful Volunteer Ambassadors can usually be found adjacent the Car Rental companies at the Ambassadors Booth in the Airport Terminal Building.
If you are interested in volunteering please email cberry(At)pgairport(Dot)ca
Restaurant – BG Urban Grill
Easter Weekend Hours:
CAFÉ
FRIDAY  APRIL 19 TO MONDAY APRIL 22:
DELI SERVICE………… 4:30AM  – 6:30PM
________________________________
Regular Café & Lounge hours
Effective December 8, 2018
CAFÉ
MONDAY TO FRIDAY:
FULL GRILL SERVICE……………………… 4:30AM – 6:30PM
(Grill service ends 15 minutes prior to cafe closing)
SATURDAY:
DELI SERVICE………… 4:30AM  – 9:00AM
FULL SERVICE…………9:00AM – 1:00PM
DELI SERVICE…………..1:00PM  – 6:30PM
SUNDAY:
DELI SERVICE…………..4:30AM – 11:30AM
FULL SERVICE………….11:30AM – 6:30PM
Statutory Holidays: Deli Service Only
LOUNGE
Effective December 8, 2018
MONDAY TO FRIDAY:…………………….. 9:00AM – 7:00PM
(9:00am to 6:15pm Full Service / 6:15pm to 7:00pm Deli Service)
SATURDAY & SUNDAY…………………… CLOSED
Beer service is available in CAFÉ
Lounge Is Closed on All Statutory Holidays
Lost and Found
Lost and Found items that are found inside or outside the Airport Terminal Building and in the parking areas of the Airport are turned in to the Commissionaires Security located in the Airport Terminal Building next to the airline counters.
Items may be claimed during the terminal's operating hours. Information regarding items may be received by calling 250.963.2406 or by contacting the Airport Security in-person.  Items will be held for 30 days.
If any items have been left on the plane, please contact the airlines directly.
Paging
Airline passengers can be paged by contacting the airlines directly. All other page requests can be administered through the security desk at 250.963.2406.
Public Internet Access
The Prince George Airport has free wireless internet connections through DATAVALET.
Security
Security arrangements are designed to ensure the comfort and safety of all persons working at and using the airport. The Prince George Airport Authority has commissioned Paladin Security to provide on site security.
G4S Secure Solutions Canada is commissioned by the Canadian Air Transport Security Authority (CATSA) to provide pre-boarding security at the Prince George Airport.
Terminal Accessibility

All our public facilities are fully accessible by wheelchairs. Our airline partners also offer wheelchair service within the terminal, and to and from their aircraft. Please inform the agents upon arrival if you will require this service.
If you require an escort to assist you to the boarding gate, please contact your airline for more information and to make the necessary arrangements, upon booking your flight.
Service animals are permitted to relieve themselves on grassed areas outside of the Terminal Building.
ATM / Banking
ATM is located next to the public telephone in the departures area of the Main Terminal, between the entrance doors and the WestJet offices.