Lheidli T'enneh – PGAA Collaboration Agreement
The Prince George Airport Authority respectfully acknowledges the unceded ancestral lands of the Lheidli T'enneh, upon which we live, work, and play.
About the Collaboration Agreement
On February 2nd, 2023, the Prince George Airport Authority (PGAA) was delighted to sign a Collaboration Agreement with the Lheidli T'enneh, our host First Nation. While the PGAA and the Lheidli T'enneh had enjoyed a productive informal relationship for some time, the formalization of this relationship will help guide our work towards implementing meaningful cultural and economic reconciliation initiatives at YXS. This Agreement outlines our shared vision for a sustainable future for our region, as well as our mutual commitments to work together to achieve this vision.
Some of the tangible commitments by the PGAA which work will begin on effective immediately are:
The display of the Lheidli T'enneh First Nation's flag at YXS.
The forwarding of all internal job postings to the Lheidli T'enneh First Nation, as well as information about job opportunities with our airline and tenant partners.
The addition of information and visual awareness allowing for an increased Lheidli T'enneh presence both within the YXS terminal and on the YXS website.
Invites to all PGAA special events, and participation in biannual bilateral Collaboration Dinners to discuss initiatives of joint interest.
Collaboration Agreement (PDF, 451 KB)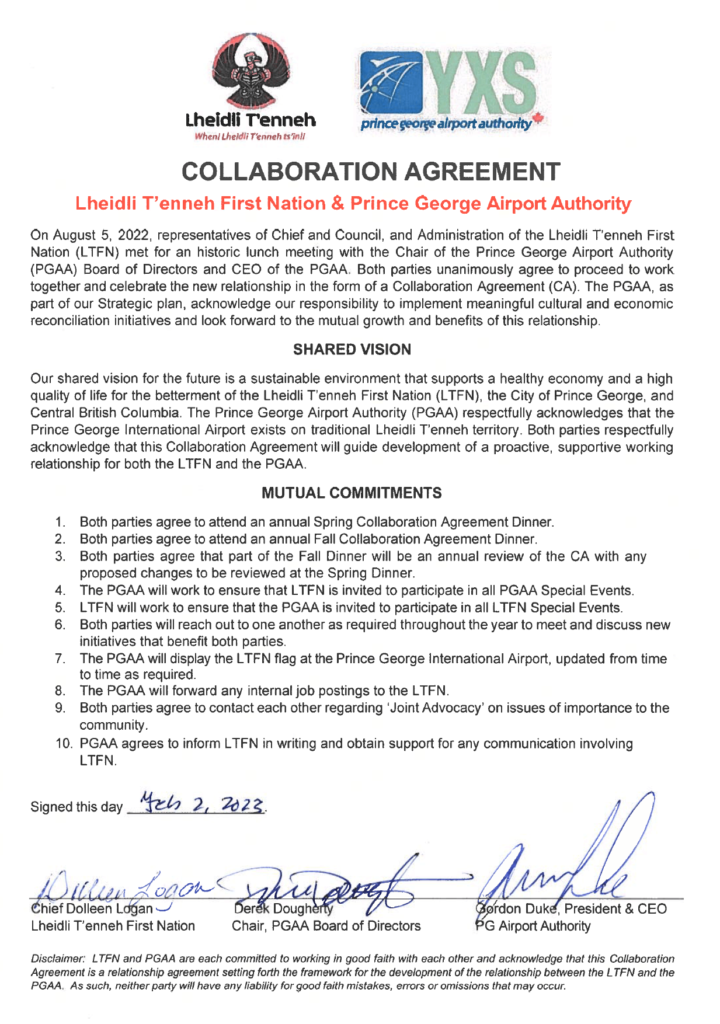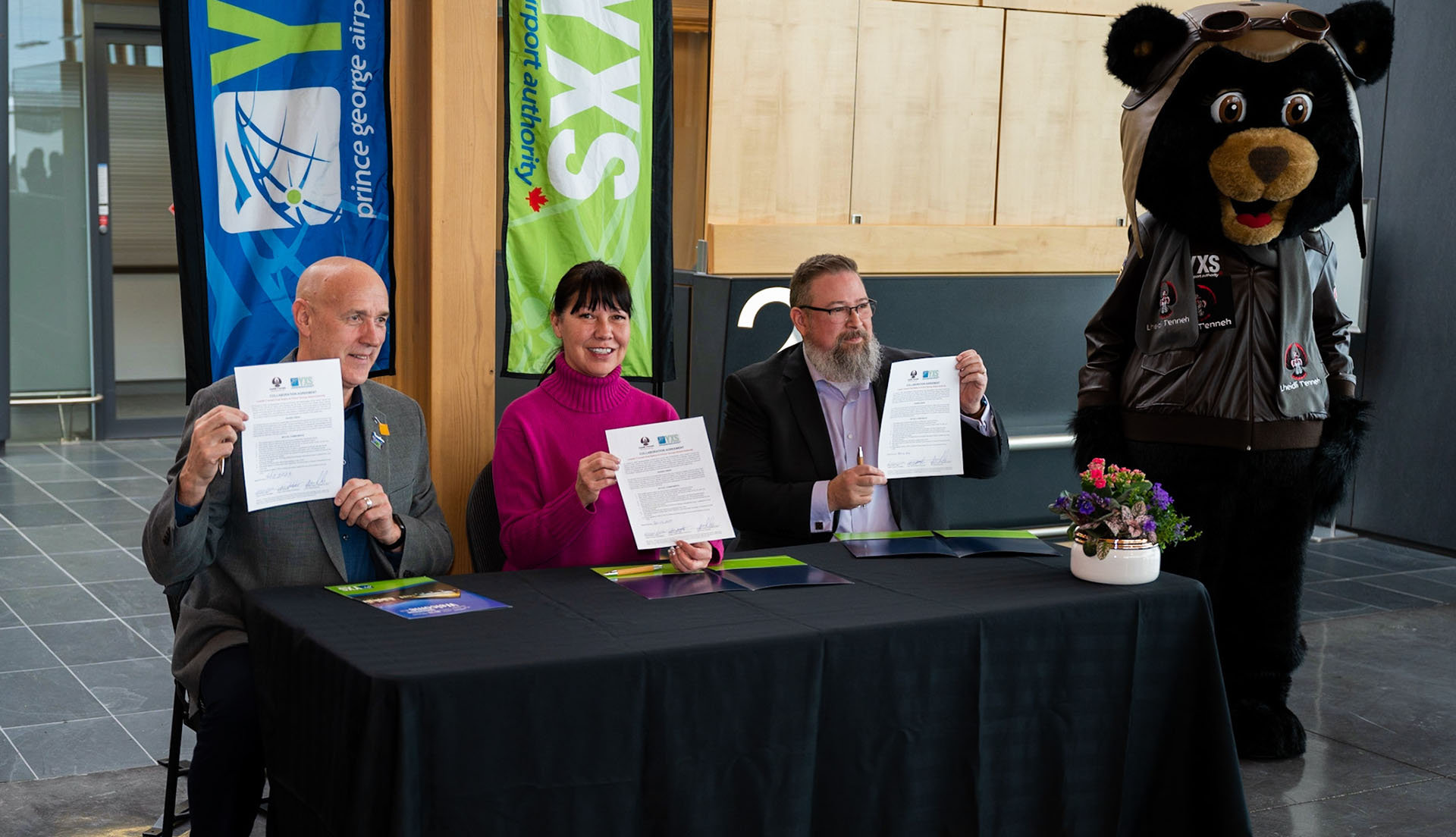 The Signing Ceremony
Watch a video of our February 2nd, 2023, signing ceremony.
About the Lheidli T'enneh First Nation
The Lheidli T'enneh are an Indigenous community of people in and around the city of Prince George, British Columbia. The name "Lheidli" means "The People from the Confluence of the River" in the Dakelh (Carrier) language, referring to where the Nechako River meets the Fraser River and their traditional territory.
Within this territory, Lheidli T'enneh works hard to develop economic opportunities but also to practice and preserve traditional activities. Through various programs and services, Lheidli continues to maintain and protect its culture and history for its over 650 members while improving their quality of life.
Today, the Lheidli T'enneh First Nation moves forward strategically to reassert its ownership of its unceded traditional
territory through implementation of its Declaration, development of its own businesses and revitalization of its language,
culture and traditional practices.
We invite you to learn more at https://www.lheidli.ca/