The 'Spirit of the North' mural represents northern British Columbia and is a legacy of the 2015 Canada Winter Games.
It tells the region's story, celebrates our heritage and ignites our future. This public art piece was unveiled October 1, 2014 at the Prince George Airport .
The Prince George & District Community Arts Council and the Prince George Airport Authority, in partnership with the 2015 Canada Winter Games, unveiled the 'Spirit of the Games' Mural painted on the exterior arrivals wall of the Prince George Airport on October 1, 2014.
---
Artist: Greg Grinch Gislason
Created by Greg Gislason, the 'Spirit of the Games' mural welcomes visitors to Prince George, as we prepare for the largest multi-sport and cultural event the region has ever hosted, the 2015 Canada Winter Games.
---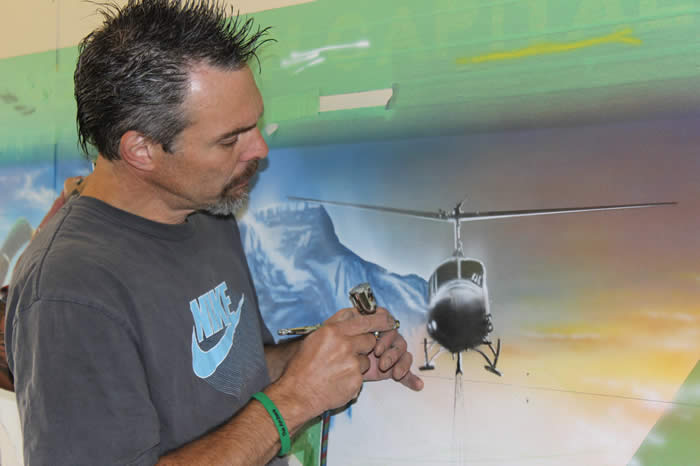 "It is exciting to see the cultural component of the Games starting to take shape," said Coralee Oakes, Minister of Community, Sport and Cultural Development. "Greg's mural is a fitting tribute to the land and people of the North and it is wonderful to see his vision realized."
"When visitors arrive in Prince George for the 2015 Canada Winter Games they will be greeted by Greg's mural – a welcoming sign that will exist in our community long after the 2015 Games have concluded," says Mayor Shari Green of Prince George. "As a community, we will be benefiting long-term from the legacy projects of the 2015 Games. This mural leaves an indelible mark on the Prince George Airport."
"We are completely blown away with the finished piece and we are so proud it will be on display at YXS for years to come," says Prince George Airport Authority President and CEO John Gibson. "Greg's talent is top notch and we are beyond thrilled to add this piece to our art collection. The 'Spirit of the Games' will be a conversation piece for many travellers coming and going through YXS and is a great way to learn about our region's past, present and future."
In July, Gislason was announced as the successful northern British Columbia artist of the 'Spirit of the Games' project. His mural features well-known landmarks and icons of Prince George, after undergoing three weeks of design concepts and countless hours of research with Prince George historians and local experts.
"When I heard about this project I knew I had to enter and I just knew I had to win," says Greg Gislason, 'Spirit of the Games' artist. "I did a ton of research on northern BC and learned a lot about the region and the people who make this place so great. I tried to include everything because I want the people who walk by it to see something new or different each time. Not only did I learn a lot, but I've met some amazing people doing this mural. I can't wait to share it with the world."
"The Prince George & District Arts Council is happy to have been able to facilitate the creation of this amazing mural 'Spirit of the Games', for the community and by a community-based artist, Greg Gislason," says Wendy A. Young, Executive Director, Prince George & District Community Arts Council. "This is a wonderful arts and cultural legacy for Prince George."
"Greg's mural will welcome the thousands of visitors to our region for the 2015 Games, remaining as a legacy in the community for the millions who visit after the 2015 Games," says Stuart Ballantyne, 2015 Canada Winter Games CEO. "This is a unique project, which is one of the many arts and culture opportunities available to northern BC artists as a result of the 2015 Games."