'Celebrating Diversity' Public Art Piece unveiled June 9, 2012 At the Prince George Airport (YXS).
The Immigrant & Multicultural Services Society of Prince George with its partners Initiatives Prince George and the Chamber of Commerce, unveiled a new public artwork that celebrates diversity at the Prince George Airport.
Artist: Aiden Callison
---
This artwork is part of Welcome PG's project work about welcoming and inclusive communities and workplaces within this community. The Immigrant and Multicultural Services Society (IMSS) Executive Director Baljit Sethi said "After living for forty years in Prince George my dream is coming true that diversity is more inclusive, being embraced by this community and now embodied in a public artwork."
The artwork was selected after a province wide call for proposals was sent out inviting artists to respond to the theme 'celebrating diversity'. Cat Sivertsen, the Welcome PG Project Manager, said "it was difficult to choose the project because it needed to reflect the theme as well as suit the environment where it would be installed." The 'celebrating diversity' artwork will be created by artist Aiden Callison and permanently located inside the arrivals terminal at the airport as a sculpture suspended from the ceiling between domestic and international arrivals.
Callison, originally from Smithers British Columbia, says "I feel a strong connection to this project and the area because my Grandfather moved to Prince George when he first immigrated to Canada in 1928." Sivertsen reiterates that "this is a familiar story for people living in PG because we are all from another part of the world, the only difference is that some of us have been here longer." Callison describes his project as a portrait chandelier sculpture. The sculpture has a steel structure resembling the two rivers with suspended glass panels of photographic portraits of past and present Prince George residents. The concept of the sculpture is that people are constantly moving, somewhat like the rivers, and it is this worldwide movement that makes up the diverse fabric of this community and Canada as a whole.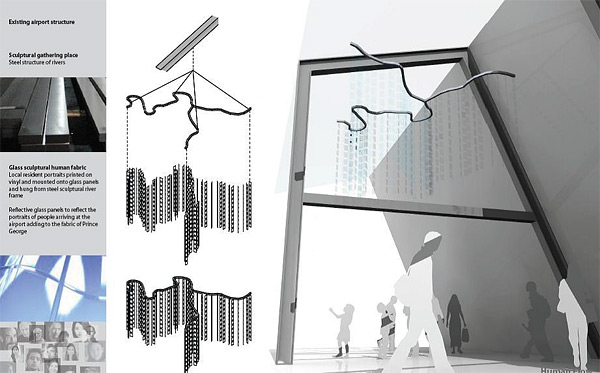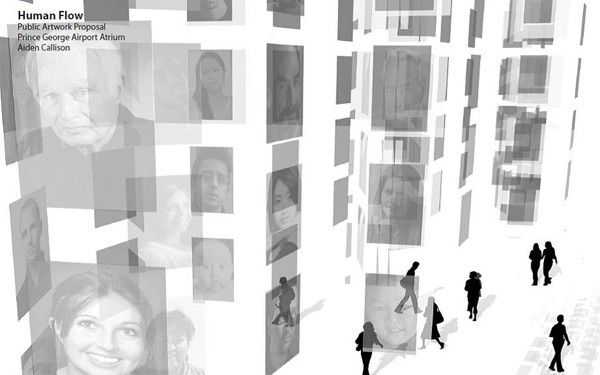 President and Chief Executive O of the Prince George Airport Authority (PGAA) John Gibson says "we are both privileged and honored to have been considered and chosen as the site for this remarkable piece of art. The Prince George Airport is often the first impression people have of the City and this piece will help make that a very positive experience."
Sivertsen acknowledges the help and advice Welcome PG has received from the partners and art advisory committee – a committee made up of representatives from the City, Regional District, Native Friendship Centre, arts and business community as well as the Library and the Airport. This commission is made possible by funding from the Provincial and Federal Governments and the Welcome BC Program which is part of the Ministry of Jobs Tourism and Innovation.