**NEW PARKING RULES IN EFFECT MARCH 16, 2020**
In an effort to help promote social distancing, those picking up or dropping off passengers at YXS can park in the Short-Term Lot at no charge as long as you accompany your vehicle at all times. Please note this takes effect immediately, is valid for a maximum of one hour and will remain in place until further notice. Regular parking rates in the Long-Term Lot are still in effect.
For those wanting to pay parking tickets, we have extended the reduced rate grace period to 30 days.
As the PG Airport Authority offices are closed to the public in response to COVID-19, please contact parking@pgairport.ca to make arrangements to pay over the phone and one of our customer support personnel will respond to your request.
We apologize for any inconvenience and we appreciate your understanding at this time
There are multiple parking options at the Prince George Airport that include short term, long term, premium and oversize parking.
Drop-off and Pick-up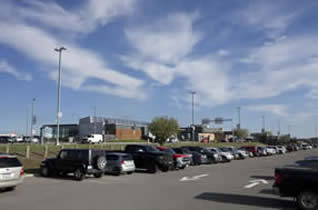 A designated drop-off and pick-up zone is located and clearly marked at the front of the terminal building.
Vehicles are permitted to remain in this zone for a maximum of 3 minutes.
Unattended vehicles are considered parked and may be fined or towed at the owner's expense.
Short Term: Hourly Parking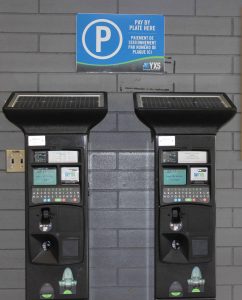 Angled hourly parking is located in front of the terminal building
Four 'Pay by Plate' parking pay stations are located inside the airport terminal building. Two pay stations are located inside the Departure doors and two are located on posts in the Arrivals area.
Park your vehicle in an available parking space.
Note your license plate number.
Pay fee at a pay station located inside the terminal building, using cash or credit card.
It is not required to have any tickets or receipts displayed on your dash. The machines accept coins and credit cards. Rate is $2 per hour, for a maximum of 2 hours.
Long Term: Daily and Weekly Parking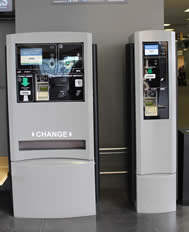 Current rates are: $14 per day and $70 per week.
The long term parking rates are calculated from the time the parking permit is printed until the payment is received. The automated calculation is based on a 24 hour clock at $1 per hour to a maximum charge of $14 per day.
Payment options:
Collect parking permit upon entrance of the long term parking lot. Keep your permit with you. Then pay with credit card, cash, or debit at the Terminal Paystation in ARRIVALS upon your return.
Collect parking permit upon entrance of the long term parking lot. Keep your permit with you. Then pay with credit or debit upon exiting lot (cash not accepted in parking lot.)
Visit Security Desk in Departures if parking permit is misplaced or machines are out of service.
Premium Parking
$2,500 for the year.
Spoil yourself with your very own parking spot. This Premium Parking option allows you to buy a parking spot which is located directly beside the terminal and it includes an electrical plug in.
Customers of this program are buying a spot, so the space can be shared by multiple vehicles, however, it's one vehicle in the spot at all times. There is a limited number of spots available.
For more information, please read the Frequently Asked Questions.
To book a spot, please contact 250.963.2411 or email parking@pgairport.ca.
Accessible Parking

Accessible parking is available in designated stalls at YXS, in both Daily/Weekly and Hourly Parking areas. Regular parking rates do apply to Accessible parking stalls and we ask that your Permit be visible.
To view what stalls are available please view our temporary Parking Map, click here. If you need requirements outside of these policies, please contact us directly or call Security at 250.963.2406.
Seasonal Issues
Battery booster packs are available if needed.  The loan of the booster pack will require ID to be left at the security desk. It will be returned to you when the booster pack has been returned.  To request the use of a booster pack, please visit the Security desk in the Departures area of the terminal building.
Receipts
If you did not receive a receipt for parking for any reason, please contact us or call Security at 250.963.2406. We will ensure that you are provided a receipt.